GoldChess News:
*Chess Thursday---Non Stop-Fun tournament, Edition25, June 22th, at 5.00 p.m. CET *Feel invited **Before and during the Non Stop tournament (16.00 to 18.30 CET) Goldchess beautiful Assistant-( English, Russian) is assisting players in Live help* •
GoldChess Education (the method for winning)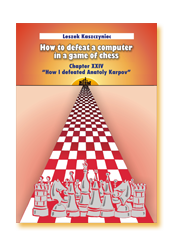 Attention!
Users that don't know how to play chess can take part in Goldchess tournament and games after reading the book and getting to know the matches, which takes a few days.

Read the book "How to defeat a computer in a game of chess"

To make it easier, all of the matches from our book can be downloaded in .pgn file.

We also have WineBottler for download here, thanks to which players using Mac OS X will be able to open our CEEC application.

All rights reserved. Used trademarks are registered. Game is patented.